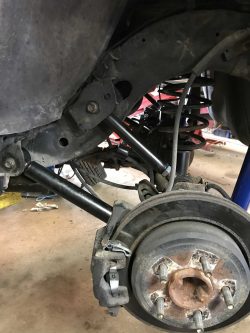 Have you noticed your car is driving a little rockier lately? Can you feel every little bump in the road? If your ride isn't as smooth as it once was, it might be time to drive into Merrill Axle and Wheel Services Inc. for some suspension work. Our aim is to keep Des Moines, Des Moines County, West Des Moines, and East Village, IA drivers safe and comfortable while they're out on the road.
Signs You Need Suspension Work
Suspension problems are hard to see, but they're certainly not hard to feel. Call to schedule an appointment for suspension work if you start experiencing any of the following problems:
Rough or uneven driving, even when on flat terrain
Squeaking or creaking from your suspension
Hard turning heavy vibrations when you turn
Bumps in the road feel more pronounced and severe
Wheels are out of alignment or have uneven tread wear
Often, the solution is as simple as new shocks or struts; however, we can also handle the bigger jobs and suspension repair that might affect other parts of your car's undercarriage. We do the work completely, so you don't need to worry about lingering issues. Let us help you put that bumpy road behind you.
Suspension Parts
We only perform suspension work using the best-quality parts and components, which we stock right here at our shop in Des Moines, IA. We carry a variety of suspension parts and components from trusted names like BCA, Fel Pro, Moog and others. Come to us for truck leaf springs, trailer axels and more. We'll make sure you get what you need, and that it's installed right.
The Smoothest Ride
At Merrill Axle and Wheel Services Inc., we want you to take every turn smoothly and minimize the bumps in the road. That starts with suspension. Contact us today at 515-288-2131 to inquire about your suspension-related questions or to schedule an appointment for suspension work, DOT inspections, wheel alignments, frame straightening, and more.